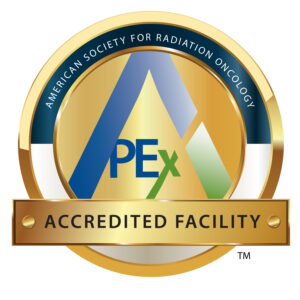 "APEx" is the Accreditation Program for Excellence, an award carefully given to select practices in the United States for excellence in safety and quality by the American Society for Radiation Oncology (ASTRO.)  Northeast Radiation Oncology Center's (NROC) achievement means that it has once again earned this prestigious four-year accreditation, the only facility in Northeastern Pennsylvania to do so.
"Receiving this accreditation from the premier radiation oncology society in the world validates our practices and recognizes the efforts of our team to deliver patient-centered, highest quality care to our community," says Christopher A. Peters, M.D., Medical Director.
Having attained this during the reality of COVID-19 is especially commendable, as NROC's  physicians, nurses, radiation therapists and entire staff provide continuous care.  Cancer patients, physicians and families can feel confident in this award-winning culture of safety available to them in Dunmore.  At its core, this exceptional accreditation reflects competencies and practices identified and endorsed in the 2012 ASTRO publication Safety is No Accident: A Framework for Quality Radiation Oncology and Care.
Accreditation through APEx is a rigorous, voluntary, multi-step process that can take up to one year to complete.  It's the result of devotion, efficient communication and a myriad of technologies and training.  Each center seeking APEx accreditation must have its policies and procedures
evaluated using objective, verifiable expectations for performance in radiation oncology.  It must demonstrate its commitment to cancer care by promoting effective communication, coordinating treatment, and engaging patients and their families as partners in care.
"ASTRO is proud to recognize Northeast Radiation Oncology Center for achieving APEx accreditation," says ASTRO chair Bruce D. Minsky, M.D., FASTRO.  "NROC has demonstrated a commitment to providing their patients with safe, high-quality radiation therapy services."
APEx has a distinctive program structure that includes both a self-assessment process and a facility visit conducted by a medical physicist and a radiation oncologist, radiation therapist, nurse, dosimetrist, nurse practitioner, physician assistant or practice administrator.
The team of physicians at NROC offers the most comprehensive, advanced radiation therapy technologies available in Northeastern Pennsylvania.  Doctors carefully advise patients with a cancer diagnosis about the therapies most effective for their type and stage of cancer, and educate them and family members on their treatment options.  The Center works with all insurances.  Patients are also given the opportunity to participate in cancer clinical research trials.  NROC physicians have served as Principal Investigators for National Cancer Institute research trials for over thirty-five years.  More information is provided at www.nrocdoctors.com.
ASTRO is the leading organization in radiation oncology, with more than 10,000 members who are physicians, nurses, biologists, physicists, radiation therapists, dosimetrists and other health care professionals who specialize in treating patients with radiation therapies.  The Society is dedicated to improving patient care through professional education and training, support for clinical practice and health policy standards, advancement of science and research, and advocacy.  It created the Radiation Oncology Institute (www.roinstitute.org), a nonprofit foundation to support research and education efforts around the world that enhance and confirm the critical role of radiation therapy in improving cancer treatment. To learn more about ASTRO, visit www.astro.org.